Take a Breath….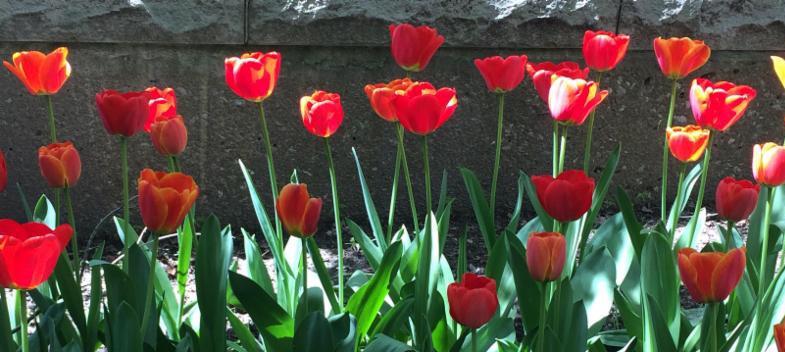 In the wake of the reflection and deep soul searching of Lent, the intensity of Holy Week, and the abundant joy of Easter, the focus for this newsletter is:
---
A Summer Morning

A summer morning;
My eyes are open.
The sun is bright:
I see clouds scudding by,
Birds in the air,
Flowers in the meadow,
Bees in the flowers,
Cows eating grass.
A summer morning;
My eyes are closed.
The sun is warm:
I hear birds singing,
Bees buzzing,
Cows munching
I feel wind on my cheek,
Smell flowers beneath me.
All my senses are alive.
Thank God for beauty.

from Celtic Praise: A Book of Celtic Devotion, Daily Prayers and Blessings, by Robert Van De Weyer, p. 19.
---
Recalibration Live!
Connecting As A Community
Saturday, May 21
1 pm – 3 pm Eastern
12 noon – 2 pm Central
11 am – 1 pm Mountain
10 am – 12 noon Pacific
We will experience a time of community, including:
Centering
Sharing, Announcements, and Networking
Small groups with prompts to discuss and process
Whole group sharing
Closing
There is no charge for this event, though registration is required.
Watch for registration information soon!
---
A Word from Scripture
The men looked at each other with wide-eyed wonder and said, "It felt like our hearts were on fire when he was talking with us on the road, showing us the meaning of the Sacred Teachings!" They got up without finishing their meal and walked back to Village of Peace as fast as they could, for the sun was setting. They found where the eleven had gathered together with the others. They were saying, "Our Wisdom-keeper is alive! He has shown himself to One Who Hears." So the two men told them what happened on the road and how their eyes were opened when Creator Sets Free broke the frybread into pieces.Luke 24:32-35, from the First Nations Version: An Indigenous Translation of the New Testament
---
Our Retreat Has Gone Virtual!

Wednesday and Thursday
July 20-21, 2022

"The Beautiful Not Yet"
Carrie Newcomer, Retreat Leader
Registration Costs:
Members ~ $200
Non-members ~ $225

The retreat is limited to 60 participants, … so register early!

The time of retreat will include music, poetry, reflective writing, and more!

We believe that moving the retreat to a virtual platform will allow for greater participation, as many are continuing to attend to their own safety and well being as the coronavirus morphs and disrupts.

Registration will open in May – watch for an email with the link!
---
Words of Wisdom
You don't always need a plan. Sometimes you just need to breathe, trust, let go and see what happens. ~ Mandy Hale

Everybody needs beauty as well as bread, places to play in and pray in, where nature may heal and give strength to body and soul. ~ John Muir

To the Taoist mentality, the aimless, empty life does not suggest anything depressing. On the contrary, it suggests the freedom of clouds and mountain streams, wandering nowhere, of flowers in impenetrable canyons, beautiful for no one to see, and of the ocean surf forever washing the sand to no end. ~ Alan Watts

When you say "yes" to others, make sure you are not saying "no" to yourself. ~ Paolo Coelho

Holiness comes wrapped in the ordinary. There are burning bushes all around you. Every tree is full of angels. Hidden beauty is waiting in every crumb. ~ Macrina Wiederkehr
Membership in Hearts On Fire (FUMSDRL)
Please consider joining if you have not already done so.
Zooms were held every other month in 2021, and will continue to be offered in 2022. These have been wonderfully enriching times of community, contemplation, and growth.
Retreat in July of 2022 – now a virtual event! Additional information is included in this email, and registration will open soon! (Members receive a discount on registration.)
Click here for the membership page on our website. You will have the option to complete your member profile and pay online, or print a form and mail in a check.
Are you interested in serving on the board? Reply to this email and someone will contact you to discuss what that entails.
---
Members' Events and Happenings
Member Nancy Dibelius shares information about the Upper New York Conference spiritual direction training program. This is a two-year training program consisting of 6 retreats; the program is currently being led by Rev. Dr. Heidi Miller. The program has been offered in the Upper NY Conference (or one of its previous incarnations before being merged) since 2003 and is currently most of the way through the 7th cohort/offering. For more information, contact Nancy at

[email protected]

.
Member Brian Hardesty shares offerings through HeartPaths DFW, including contemplative prayer training/SD training aka In-Formation Gatherings, summer sampler of supervision group, and a special hybrid event "Growing Your Spiritual Ministry" on May 3. Click here for more information.
Member Brenda Buckwell shares several enrichment opportunities, including Retreat and Small Group Leadership Training, monthly Pause with Purpose, Introduction to Spiritual Formation. For more information and registration, click here.
Join the Conversation on Facebook
How is the conflict in Ukraine affecting you? How are you praying about it? What gives you hope?

Share your thoughts, struggles, questions, events, etc. by clicking here.
---